Donor Manager 5.59 can be downloaded
Donor Manager 5.59 is available for download.
This update includes some enhancements to gift processing routines for some organizations, and tries to fix the bug in the "savefiletime" routine that caused occasional error messages for some users on program startup.
Also, be sure to take a look at the Donor Manager 6 beta (if you are feeling brave).  Don't use it for your "live" data yet, but you can see where the DM is headed.   It installs in a different folder and uses different data files (and will easily import your DM 5 data with just a click or two), so it can be safetly tested alongside a working DM 5 version.
5.58 has a few small updates
Version 5.58 is available for download from this site, or via "Live Update."
This update includes several small enhancments, including improved handling of member to member gifts for WBT staff.
Version 5.57 features changes in the donor matching routines
Version 5.57 includes some changes in how the Donor Manager keeps the Donor ID number.  In the past, the ID number has been "padded" with leading zeros.  While this has generally worked out well, for some giving files it has caused some problems, leading to having to "match" contributions to partners each month.  Hopefully the changes in this version will improve the matching.
It is possible that you may have to "match" to donors again this month due to this new method, but in future months, it should work as expected.
In addition, beta support for US Center for World Mission giving files (tntMPD format) are included in this update, as well as Missionary Ventures.   Feedback is invited.
Plus, there are a few updates in the WBT gift importer, and the CCCU gift importer.
What's New in 5.56
Version 5.56 includes the following new features, enhancements, and bug fixes:
Use Google Maps as a mapping provider.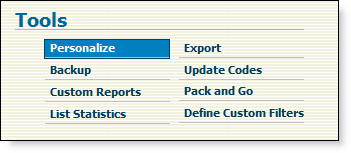 If you 'd like to use Google maps for mapping, that is now an option (in addition to Yahoo, Mapquest, and Streetwise).   To set your preferred mapping provider, go to Tools /Personalize /Editing Options /Other Options /Mapping Provider.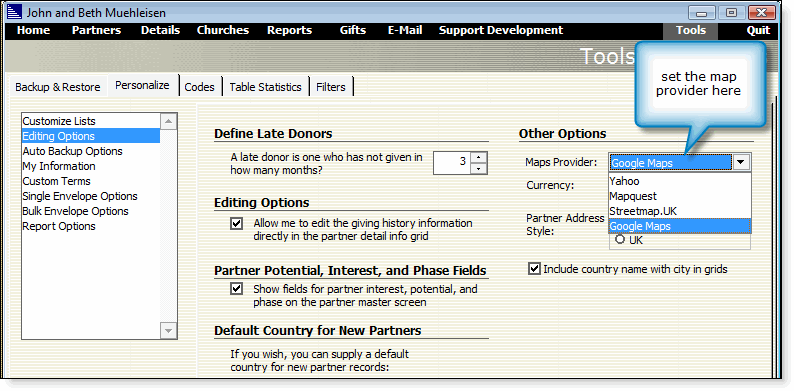 Gift Importer Enhancements
There have been updates to the gift importers for:
WBT HTML files
WBT Unity CSV files
tntMPD format files
Improved "Gift Cleanup" processing

Sometimes gift records get "orphaned."  I've done some enhancements to the gift cleanup routine to catch more of these orphaned gift records.
DM 5.55 update released
Version 5.55 is a public release of the Donor Manager.
Here are some highlights of new features in this version.

There are several updates to gift importers to handle the inevitable "tweaks" done by various organizations, and to handle various scenarios that have come up in recent gift reports.
Updated gift importers include:
Leadership Resources International
WBT HTML statements (some statements "froze" at 95% imported)
YWAM Colorado Springs base (additional information in the statement)
Assemblies of God (to handle the new field with zip+4 information)
In addition, I have added a new option to the Export menu to allow a "total export" of the Donor Manager data. This will export all data fields from all DM data files in dbf, xls, or csv format.  Feedback on this new option is welcome.
And the usual number of small bug fixes and cosmetic corrections.
Forum Problems Solved - The Forum is back up
For some reason, the forum software went down a week or so ago, and I'm not quite sure why.  
But, a reinstall of the forum software seems to have resolved the issue, and the forum is back up and running.
5.53 & 5.54 adds gift import for Leadership Resources & fixes for Partners International and WBT
New Gift Importers

Version 5.54 and 5.53 adds support for Leadership Resources International (beta), an update to the gift importer for Partners International to handle the new format Excel files, and an update to the United World Mission gift importer.
For those using the PI gift importer, change the file import type to "Partners International 2008" to get import tool for the new format.
Bug Fixes
In addition, version 5.54 fixes two bugs:  in the WBT HTML gift importer, the zip codes were sometimes mangled.  This has been fixed.  
I really need to learn how to type
Also, a long time ago I typed "Firebird" instead of "Thunderbird" to refer to Mozilla's excellent e-mail client.  Obviously I was confusing "Thunderbird" and "Firefox" and ended up with "Firebird.   This typo has been fixed.